Magician for Hire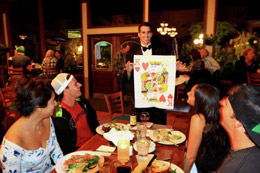 Doug Hofkins, a.k.a. the "Surfing Magician" has over 15 years of comedy magic shows. He has been known to amaze and amuse crowds of all ages at his shows time and time again. Doug has performed to crowds of a few at a select table in a restaurant, to as many as hundreds in a theater—all from ages one to one hundred and one. The Surfing Magician's reviews are constantly outstanding, with people commenting most about his unique tricks, traits, and interesting storylines. The show is an ever-evolving experience that is guaranteed entertainment for all involved!
The Surfing Magician show is performed regularly by Doug in his hometown of Santa Cruz, and also has hit the road in the western region and beyond. Props in the show usually include illusions, scarves, coins, animals, stage illusions, playing cards and more. Be sure to check out the contact page to find out how to book The Surfing Magician for your birthday party, work event, and more…
Contact me for reservations.